Friday, October 20, 2017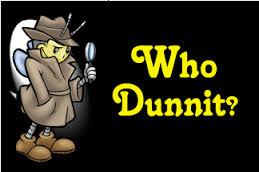 ABOUT THE EVENT
Phoenixville Public Library will host "You Only Die Once", a murder mystery, on Friday, October 20 at 7:00 PM. This participatory, after-hours event is presented by Victorian Vanities, Inc. After many years of exemplary service, 'R', the head of FLAIL, is retiring. And what a bash it is! Friends, colleagues, and even criminal masterminds have put in an appearance. In fact, it would be safe to say that everyone who is anyone is there to see she gets a good sendoff. Well, everyone, that is, except Roger Damsels 006 3/4, FLAIL's top secret agent. When a search is undertaken for the celebrated spy, he is discovered dead in his room, leaving 'R' with one last crime to solve before she can retire.
Each guest is asked to play a character in this whodunit, which will last between 60 and 90 minutes. Costumes, props, and prizes provided. Memorization of lines or prior acting experience is not required. Please bring reading glasses if needed. Participants will be asked to read clues from their clue cards, answer questions, and perhaps play charades.
This event is free and open to the public. Reservations are required for participants only on the Adult Events Calendar at www.phoenixvillelibrary.org or by calling 610-933-3013 x132. If you register, you are agreeing to participate in the program. Please arrive at 6:30 PM, so the show can begin on time at 7:00 PM. Latecomers will be relegated to the audience and will only participate as spectators. Light refreshments served. For more information, call 610-933-3013 x132 or e-mail mpinto@ccls.org.
610-933-3013 x132